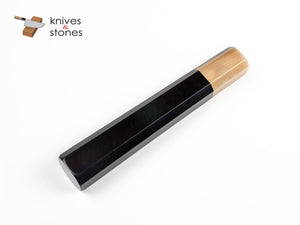 Measurements
NOTE: the figures provided are for reference only, handmade products do vary individually. 
Knives and Stones may not (and probably can't) stock all the options listed below, particular for more expensive models. 
Measurement

Weight (g)

Length (mm)

Front size (mm)

Rear size (mm)

Small Petty

 40

 120
 16 x 20
 19 x 23

 46

 133
 16 x 20
 20 x 24

 53

 145
 16 x 20
 20 x 25

 52

 128
 18 x 21
 21 x 25

Gyuto (22.5cm) / Yanagi (24cm)

 53

 133
 18 x 21
 21 x 25

Gyuto (24cm) / Gyuto (25.5cm)

 55

 138
 

18 x 21

 21 x 25

Gyuto (27cm) / Yanagi (27cm 30cm)

 57

 146
 

18 x 21

 21 x 25

Gyuto Heavy (25cm 27cm)

 70

 143
 20 x 24
 24 x 28

Yanagi (33cm)

 68

 150
 18 x 21
 22 x 26

Deba (15cm, 16.5cm)

 49

 138
 20 x 24
 23 x 27

Deba (18cm, 21cm)

 50

 143
 20 x 24
 24 x 28
The story behind K&S Handles
Prologue
This dates back to when I was still a crazy knife nut wanting to buy all the exotic knives and would probably do it if I hit the jackpot. I saved for quite a long time to finally pull the trigger on a very high end Yanagiba (by Keijiro Doi, initally set to 100 units then ballooned to whatever, you get what it is). It was a very nice blade, the fit and finish was exceptional even I pull it out today, after coming a vendor, it is still amongest the best quality knives available. Problem was, the quality of octagonal ebony handle is subpar: the handle was not symmetrical when viewing from the back of the handle, one pair of short sides were much longer than the other pair when in theory they should be (close to) identical. (Disclaimer: I am in no way suggesting that all Sakai handles are like so, just sharing my story).
Well I was just an average consumer and I really love the knife, so I kept it. However this type of mediocrity should not occur on a knife that is over US$1000. I looked into the option of changing the handle for a custom one, yet apart from the long waiting queues and a rather costly handle, the shipping is something not to be ignored as well. Adding the risk of knife being damaged during transportation, I just gave up. I might have given up at that time, it planted a seed for the fruiting of K&S custom handles. 
Fig 1. The following pic shows the handle in question
Fig 2. Handle in question compared to a K&S custom handle in similar spec. 
The brith of K&S custom handles
After I started K&S, I naturally wanted to offer more handle options to my customers because of the above mentioned case, and more because I have drooled long enough on those super exotic custom handles that members on KKF (kitchenknifeforums.com) showed off: handles by Stefan Kellar, Mike Henry; using burls, desert ironwood and shiny spacers. Again, the cost of these custom handles and the prohibitively long lead time prevented me from using them in a larger scale. Therefore the only option left for me was to take things in my own hands. Lucky for me, there are plenty exotic timbers and experienced woodworkers (getting a degree in Engineering certainly helps) here in Australia. I was able to come up with a way that produces these octagonal WA-handles in a relatively cost effective and consistant manner. After a few months of trial and error, I was finally satisfied with the quality of my handles, and decided to commit to the idea of manufacturing the K&S custom handles in-house:)
What defines a good WA-handle? What K&S handles have achieved.
I have being in the WA-handle manufacturing field for about a year and a half now. Bought a ton of handles from the market, and also installed a ton of handles onto knives that I sell, so I do have a fair bit of an idea about some of the criteria that define a well made WA-handle. 
Simple yet elegant design: the handle has to please your eye. It sounds simple but not really. It is really necessary to properly define the profile, crosss-section geometry, lenghth for different blade type and length.Most importantly, I like WA-handles to have a nice and subtle taper toward the ferrule, it really makes the handle look more nimble.  A lot of handles may look great from the screen but when you have a close look in real life, you will notice the handle may actually have a bad geometry or profile, some times too bulky, some times too small.
Simple also means each element on the handle is "just right". I my view, simple and elegant means my handles should be based on proven designs, with a little twist of elegance, such as the incorporation of metal spacers, but definitely not "over spacer" (I have seen really bad "custom" examples).
 Large selection of material: K&S is able to source large quantity of exotic materials: African ebony, Australian ringed Gidgee, Bubinga, varies of Australian hardwood burls; black, marble and blonde buffalo horn, nicekel silver, brass and corian for ferrule. These beautiful, super dense timber along with the beauty of natural buffalo horn guarantees the best possible design combinations and builds the base of the quality K&S custom handle.
 Fig 3. The following picture shows some of the K&S custome handles, with varies designs and materials.
Improved internal design: The traditional way of jointing the main handle and ferrule is firstly machining an oval dowel on the timber then wrap (punch) the horn ferrule onto the timber, creating a through mortise-tenon joint. This creates a few problems and the most obvious one being that it does not look good if the timber and ferrule material have constrasting colour.
Another issue is the tang slot. The traditional way involves the marker first heating a tang sized tool to red-hot in charcoal, before pushing it into the soft ho-wood, creating the tang slot along the process. The process is done entirely free hand, which often leaves the tang slot off-center. The process gets whole lot harder when dealing with hardwood like ebony, hence the failure rate increases (along with cost). I have seen many knives that are way off center. 
K&S fixed the above mentioned issues, first by creating a blind mortise-tenon joint so the timber is not exposed at where knife enters the handle yet ensuring that the handle is structurally strong. Also, by machining (rather than free hand) the tang slot internally, we are able to smoothly guilde the knife into the handle, always centered. 
Fig 4. The hidden mortise and tenon design of K&S custom handles does not expose the timber, improving the overall fit and finish of the handle
Perfect manufacturing quality: Inconsistent is thw word that I use to describe a lot of existing Japanese handles (or even custom made ones), because of they way they make the octagonal shape and taper (if you are lucky). Due to my engineering background, I designed my own way of manufacturing process, and the result is a much better build consistency across the board. Being a long-time woodworker, I am also very picky about the quality of the final finshing. During the sanding phase, we spend a great deal of time on each handle in order to achieve a even, perfect mirror finish. Costly (to me), but worth it IMO.
Fig 5. The photo below shows three K&S WA-handles stacked on the diagonal sides, demonstrating its unmatched manufacturing consistency.
Affordable: No matter how perfect a product is, it is irrelevant if it is too expensive. I want to let my customers enjoy these beautiful handles while not breaking the wallet. More importantly, by installing them here in Sydney, you will save the hassel of shipping your new knife to the handle maker, wait for him to install it and ship it back to you. This minimizes the chance of the knife breaking during shipping, save (sometimes expensive postage) money and time. 
HOW TO INSTALL