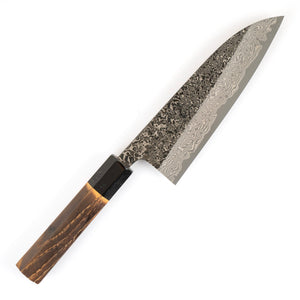 The elusive Yoshikane SLD Santoku black damascus. 

Founded in 1919 (大正8年),Yoshikane is one of the most established top quality kitchen knife manufacturers in Sanjo, Niigata. Many new generation blacksmith in Sanjo took has apprenticeship experience at this knife workshop. 
Headmaster Yamamoto-san believes, "while many things change rapidly nowadays, there are ideas and believes that never change. Everyday I make sure the meaning of these words are forged into knife making". And indeed because of this firm believe, this workshop produces some of the highest quality kitchen knives with superb fit and finish. The workshop is alsp very famous for its heat treatment of White 2 and the use of semi-stainless SKD steel. 
Measurements
| | |
| --- | --- |
|   | Measurements |
| Weight  | 149.7 g |
| Total Length | 310 mm |
| Tip to Heel Length | 171 mm |
| Blade Height at Heel | 52.9 mm |
| Width of Spine Above Heel  | 3.6 mm |
| Width of Spine at Middle of Blade | 2.0 mm |
| Width of Spine at about 1cm From the Tip | 0.8 mm  |
| Steel | SLD Black Damascus Stainless Cladding |
| Hardness | HRC 62-63 |
| Handle Design | Burnt Chestnut |