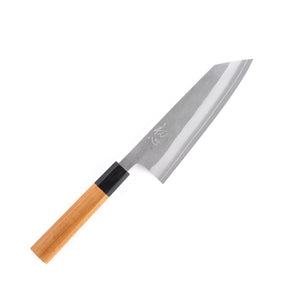 This is the Hatsukokoro (初心) version of the Yoshikane SKD Bunka. Different to K&S Amekiri line, this Hatsukokoro version is with kanji 初心 from a new channel to meet the high demand on the Yoshikane SKD line. Other than the kanji engraving, all specs of this blade are the same as K&S Amekiri.
For those not familiar with SKD, it is SKD12 also known as A2 tool steel, with about 1% of Carbon content, and only 4.5% of Chromium. Heat treated perfectly by Yoshikane to HRC 63, the SKD very much behaves like carbon steel in terms of taking a very keen edge, the food release and also super easy to sharpen; yet without the need of high maintenance.
The semi stainless nature of the SKD (and alike) means the knife will not rust during normal use and can be left unattended for a short period of time during service, but could still rust if not cleaned for an extended period of time. It will take on patina during daily use just like carbon steel. 

===========
A rustic Nashiji finish coupled with a highly praised Sanjo region F&F. This knife has a very nice profile, large sweet spot, and feels very nimble in hand. SKD semi stainless core with stainless cladding ensure the highest cutting performance yet the stainless cladding means you will have little worry about the rust.
This maker is a highly regarded knife house in Sanjo, Niigata. Founded in 1919, it is one of the most established top quality kitchen knife manufacturers in the region.
Measurements
| | |
| --- | --- |
|   | Measurements |
| Weight  | 171 g |
| Total Length | 318 mm |
| Tip to Heel Length | 170 mm |
| Blade Height at Heel | 51 mm |
| Width of Spine Above Heel  | 3.9 mm |
| Width of Spine at Middle of Blade | 2.2 mm |
| Width of Spine at about 1cm From the Tip | 1.26 mm  |
| Steel | SKD High Speed Tool Steel, Stainless Cladding |
| Hardness | HRC 63 |
| Handle Design | K&S Teak Handle |